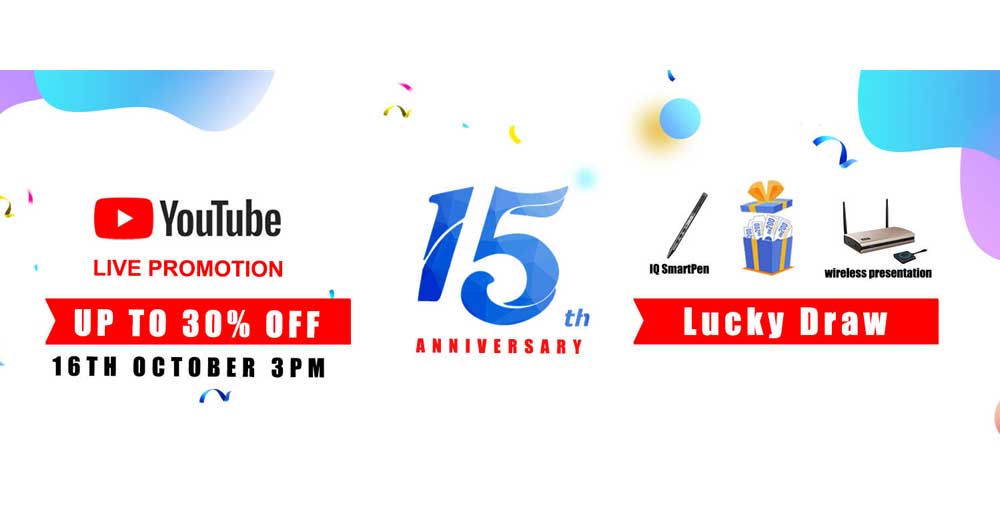 By QNEX
2019-09-29
Lucky Draw Details for IQBoard 15th Anniversary Celebration
October 16th, it's IQBoard 15th anniversary celebration. We prepared Lucky Draw for this celebration. And we will draw a raffle during our live broadcast on this day. This article will introduce the details of this lucky draw.
Participation way:
No matter you are a new customer or our regular customer, you can just visit our website: www.iqboard.net/15 and input your name, email and interested product. Please kindly be noted that the name and email should all be correct, because that's the way we contact you for the prize if you won the lucky draw! Then you have the right to join in our lucky draw.
Prize for the Lucky Draw
Lucky prize *5: IQSmart Pen*1pcs.
Introduction of IQSmart Pen:
With IQ SmartPen, teachers can stand in any corner of the classroom to control the courseware playing on IQTouch flat panel or Interactive Whiteboard.
It can turn pages up and down of the PPT; It can play or pause the video directly; It can take a screenshot of the current page, and so on.
So it draws the distance close between teachers and students, and greatly enhances the interactive atmosphere between them.
Special Prize *1: IQShare Wireless Presentation System*1pcs.
Introduction of IQShare Wireless Presentation System
No waiting to join in to share and display the laptop screen to display screen or projector instantly. And it also supports to cast the screen of Android phone or iPhone and tablet to the display screen. IQShare is a quickest and efficient way for wireless presentation.
It supports everyone to share ideas and cast the laptop screen on the big screen instantly with a button click; Up to 16pcs computers can be connected at the same time with one button projection, and so on.
So, IQShare wirelss presentation system is a great way for education and business brainstorm.
For more details about this lucky draw, please kindly keep attention to our news and don't forget to participate our 15th anniversay on 16th, October.